Dealing with a misbehaving riding partner can be frustrating. What used to be a happy relationship between you and your horse seemed to have turned sour overnight—what happened?
Delving deep into an equine's history, observing their recent behavior, and even their personality and demeanor can reveal the possible causes of problematic horse behavior. It may also be pain-related and the telltale signs of this are sometimes too small that it can be overlooked. A lot of the time, it doesn't happen overnight; it's rather a gradual process. Keep reading to learn more about trauma in horses.
In this article, we will talk about:
Signs of horse misbehavior
There are obvious signs, such as aggressive horse behavior towards other horses, or physically hurting those around them,. There are also more subtle signs, such as refusing to do gaits or follow aids. Sometimes what seems like disrespect or aggression may have other reasons behind them.
Rachel Capps of Freedom Reigns Ranch says that most horses who exhibit bad behavior may have undergone pain, trauma, abuse, or neglect, and their misbehavior is a reaction or result of those challenges. "Horses don't have the ability to communicate with humans when something hurts, other than to try to stop the pain: which can look like bucking, rearing, shying, unwillingness to perform certain movements, or exaggerated reactions. More subtle horses can also be 'stoic' and not express pain as a natural instinct to avoid being targeted by a predator. There are instances where horses have not expressed pain until they felt a certain level of safety."
Rachel tells the story of Finn, one of their horses in Freedom Reigns. She says that Finn was an equitation horse who loved to jump, and then all of a sudden, started refusing to do so. "His owners got to the root of the issue: pain. He had bone spurs in his hocks."
Rachel points out that misbehavior can be either circumstantial or related to the pain that your equine may or may not exhibit, making it more difficult to pinpoint it as the cause of their misbehavior. She says, "Misbehavior in horses can be circumstantial, such as resource guarding, dominance, environmental, but it can also be pain related. Characteristics can be displayed as minor as tension in the lower lip and as dramatic as rearing or even flipping over, The degree to which discomfort is expressed depends not only on the severity and sensation of the pain, but also the horse's pain threshold and can be cumulative in nature."  
If your equine partner sometimes refuses or balks when they come close to a location, it could be possible that it's a place wherein they had a traumatic experience.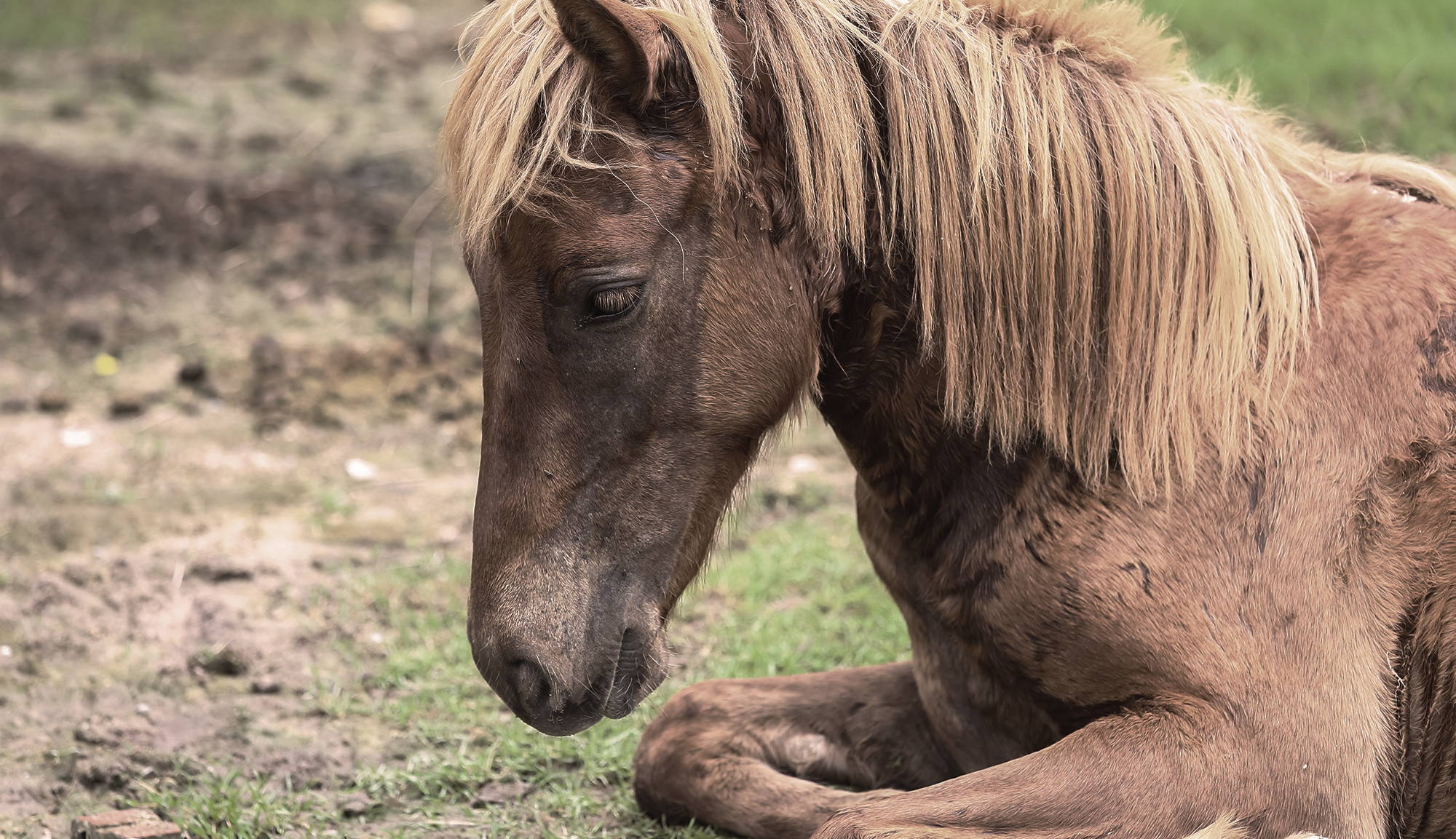 Possible causes and triggers of horse behavioral problems
Experiencing pain, abuse, and trauma may be the causes of riding partner's behavioral problems. Rachel enumerates the definition of horse abuse according to Tennessee State law:
"A person commits an offense who intentionally or knowingly: Tortures, maims, or grossly overworks an animal; Fails unreasonably to provide necessary food, water, care or shelter for an animal in the person's custody; Transports or confines an animal in a cruel manner; or Inflicts burns, cuts, lacerations, or other injuries or pain, by any method, including blistering compounds, to the legs or hooves of horses in order to make them sore for any purpose including, but not limited to, competition in horse shows and similar events."
However, Rachel laments that this is the most basic of definitions, and even then, these still happen to your four-legged friends. "Obvious responses to pain inflicted by humans, such as striking, maiming, and physical torture can include aggression toward people, like biting, striking, or kicking. A painful memory could trigger a flight response, such as bolting, rearing, or shying,"
Rachel tells us the story of 30-year old Joseph, a rescued saddle-bred who was 300lbs underweight, infested with parasites, covered in rain rot, had poor hooves and suffered from swayback. "The incredible thing about Joseph is even though he had clearly been neglected before coming to Freedom Reigns, he loves people, is naturally curious and fearless, and always tries his best at everything."
Other effects of abuse and neglect can be a bit more understated. When an equine partner is afraid of losing resources, for example, it protects what is "theirs". "When a horse fears going without, they tend to resource guard and be protective, leading to what is commonly defined as 'food aggression," Rachel says, "In their attempt to keep other horses or even people and pets away from a resource, he may kick, strike, or run over those in the way of the precious resource."
Another form of abuse that is oftentimes overlooked and thought of to be part of training would be to force the horse to move into positions that they are physically incapable of doing or training methods that cause pain.
How do you solve problematic behavior in equines?
Horses are resilient creatures, and their ability to heal and adapt is amazing.
At Freedom Reigns Ranch, wherein they take care of horses that have been rescued from abuse and neglect, they have seen firsthand how there is always hope for horses to recover and move on from their painful past. "Freedom Reigns Ranch's mission is 'igniting hope, with the help of a horse"."
"Time leads to trust," Rachel says about the healing and horse rehabilitation process, "Most often, we don't know the history of the horses that come to Freedom Reigns, and we're given the opportunity to learn that horse's perspective of the world and everything in it. We also see whether he associates specific things as something he likes, something he doesn't know about, or something he fears. That's how a horse's brain works- Like, Unknown, Fear. Our job is to turn the unknowns into likes, or at the least, nonchalant things, and reduce the number of fears."
A horse's rehabilitation process
Trust is earned through time and action, and those in Freedom Reigns Ranch take their time during the rehabilitation process, knowing that each step is essential to the healing of each equine partner. Here's what to expect when a four-legged pal undergoes rehabilitation:
1. Observation
Rachel mentions that they observe the equine while on their own, or when they are with others. "Is he naturally more curious or more fearful, naturally more spirited and expressive or shy and reserved, and how does that change based on the environment he is in. Then, we observe the horse with others in the herd—does he tend to be dominant or submissive."
2. Perception of people
Riding partners are then brought to work with their humans in a round pen to see how they react to people. "The round pen at liberty teaches us a lot," Rachel says, "We ask for interaction based on body language, like our stature and level of energy and how he responds to it. Does he mirror or reflect, and if he does, will it be at the same level, or high or lower?"
3. Introduction of familiar and unfamiliar objects
Familiar Items to your four-legged pals, such as a lead rope, saddle, halter, stick or whip, a mounting block, are introduced, alongside items that they don't know, to figure out their response. "That allows us to further evaluate their personality, their tolerance for new things, and their fear response when it is triggered," Rachel explains.
4. Gauging under the saddle
"At any point, we are only going as fast as the bond of trust with the equine exists," Rachel says. Using different gaits and maneuvers, persons in charge of rehabilitation will only move forward to the next level once their equine partner shows signs of relaxation. "Soft eyes, lowered head, relaxed body; even if a calm-alert rather than calm is expressed," Rachel recounts, "This is how you gain trust, no matter what the horse's background."
In Finn's case, after ending his career as an equitation horse, Rachel says that he became an excellent session horse at Freedom Reigns. "We learned the balance of what he could tolerate as he told us through his overall demeanor and behaviors under saddle and we finally settled on his 'sweet spot' of exercise and balance of session work."
5. Stepping outside their comfort zone
Growth is found outside one's comfort zone, and the same goes for horses. Rachel says that yes, they may ask horses to do what is out of bounds for them, but it is for good reason. "We still work on enforcing boundaries and respect, because we need to have that established for the moments when the unexpected happens. In those cases we work with the horse to learn to be calm and trust us in the situation despite whatever the stimulation is, rather than remove what is causing the fear. It takes a lot of time, but it's what helps create a steady and reliable session horse."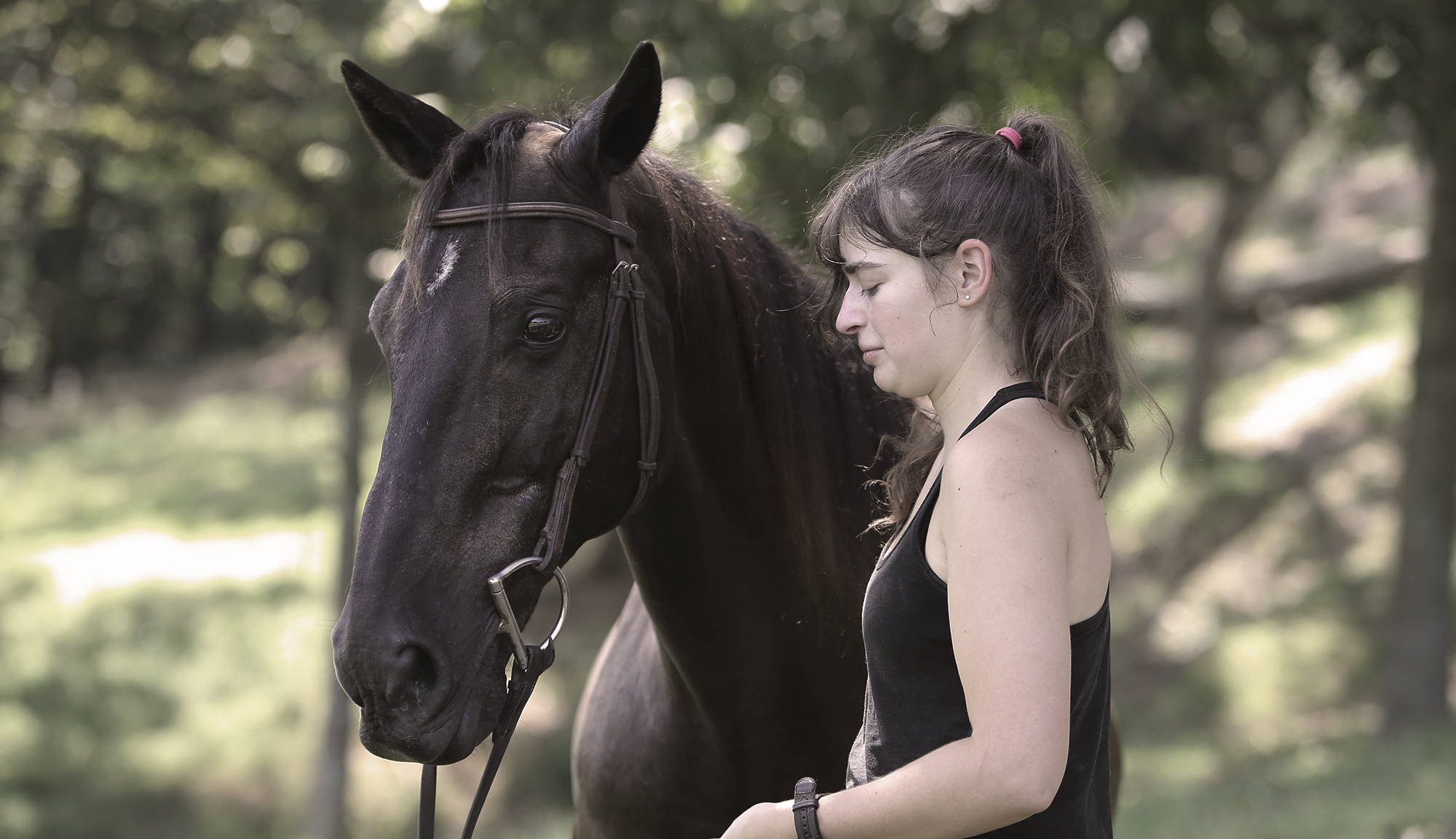 What you can do to help your riding partner
Much like doctors who do not recommend you to "self-medicate," Rachel strongly recommends turning to professionals when it comes to horses who are exhibiting bad behaviors, considering that the underlying factors may be due to trauma, abuse, or pain. Rachel suggests, "There are certainly things you can do to gain trust in between training sessions, but the well-being and safety of the horse, and your safety, are of the utmost priority. It's best not to put yourself in a situation where you and the horse could be hurt. Once your horse is with a trainer, be an active part of his training with your chosen professional."
How a proper tack helps in the rehabilitation process
Finn's switch from an equitation horse to a session equine led his muscles to change, meaning the fit of his tack needed to be changed. "Finn is very stoic, and we don't know how much discomfort he was dealing with because we never felt any physical difference. While one of our saddles fit him well, it wasn't perfect. Unfortunately, we just don't have the budget to buy a custom saddle or a very high end tack, and mostly rely on donated saddles for our horses. The decision to change was a result of an uneven sweat pattern this summer—that's where the Kavallerie Middle Riser Anti-Slip Gel Pad came in. It had just enough build-up in the right spot to eliminate the gaping that we were dealing with. The change in comfort for him with the new pad is not obvious to the untrained rider, but those who are aware can feel the difference in how he moves. He's more willing to lift his back and reach forward with his stride using his body without restriction and leading to a longer career as a Session Horse."
On the other hand, the neglect that Joseph experienced didn't stop him from wanting to take part in horse riding, even when he was underweight and suffered from swayback. "He's the horse who, if he is not chosen for sessions, will stand at the arena gate and nicker for attention. When he has a rider on his back, it's as if he is carrying royalty. and thrives off of affirmation and scratches."
Rachel explains that even if Joseph was nursed back to health through proper care and rehabilitation, he needed help from a proper tack. "Fitting a saddle for Joseph was challenging. As a swaybacked saddle-bred, the ability to distribute an equestrian's weight across surfaces is hampered and a majority falls on the rear part of the saddle, leading to a tender spot on the horse's back. We had used a shim correction pad, a foam memory pad combined with a wool pad to try to increase the distribution, but his stride was still short and choppy. And during chiropractic adjustments he was always out along his spine."
Kavallerie Rear Riser Anti-Slip Gel Pad helped Joseph a great deal, removing the need for other correction saddle pads. "The Kavallerie saddle pad has the density to help Joseph's saddle sit perfectly. He's still a choppy 30 year old, but he actually does move differently and it's something you can see a difference in. We're awaiting that next chiropractic adjustment to see if it has even helped on a skeletal level."
Properly fitted and adjusted tack is non-negotiable for all horses and is especially helpful for the proper rehabilitation of equines. "If a horse is in pain or uncomfortable with a tack, it will end up being expressed in some way," Rachel explains, "It may be as subtle as an unwillingness to bend in a corner. Unaddressed, that eventually leads to asymmetrical muscling, which is compensated by adjusted movement, affecting muscling, joints and ligaments, which will eventually lead to pain, and then behavioral issues to express the pain. Unraveling all of that to get back to the source is frustrating, takes a lot of time, and is usually expensive. Starting off with well-fitting tack ensures the most basic and essential thing is correct."
Horses are naturally amiable creatures, seeking to be part of a herd or build a relationship with people. At Freedom Reigns Ranch, the horses they rehabilitate go on to help children and young adults to heal from traumatic experiences and other life challenges through one-on-one, small group, or family sessions. All sessions are guided by a mentor, and all of this is free of charge. Rachel says, "We take kids and young adults who have been through trauma, and horses that have been abused and neglected, pair them together and watch God heal both of their hearts at the same time."
It's unfortunate when they undergo abuse, trauma, or neglect, and it is misconstrued as bad behavior. If you suspect your equine may be acting out or misbehaving, it may be time to get to the root of it—it's the respectful, caring, loving thing to do for your horse.