When para equestrian Lily Rhodes returned from the hospital after losing half her arm, the first thing she wanted to do was visit her horse. The then 14-year-old, as she shared with Sidelines, was cool and composed when she was rushed to the hospital after losing the lower part of her arm, from the elbow down. Some riders would get disheartened and retire. But for Lily, that was not even an option. She chose to ride on.
Lily's Para Equestrian Beginnings
"I got into riding because of my mother, another passionate equestrian," Lily reveals about herself. "My mom passed on her love of horses to me, and I have not looked back since! I got into riding young, hopping on my grandparent's horses bareback. From there, I never really stopped, and continued to jump on every riding opportunity I could get my hands on!"
According to Tailored Mane, Lily started taking formal lessons when she was 10 years old, taking a liking to the discipline of Dressage. By 13 years old, she got the best birthday gift an equestrian could ever get—her pony whom she named Pippen. At 14 years old, she was already an avid rider. It was also at this age when she lost her right arm. She and five of her friends were at a birthday party and crashed while on an ATV. While her four friends came out with minor injuries, with one friend breaking vertebrae, Lily experienced the brunt of what happened. According to an interview on News on 6, she said that she knew that her arm was off. "And I looked down and said 'Well that's not good,' I remember saying that."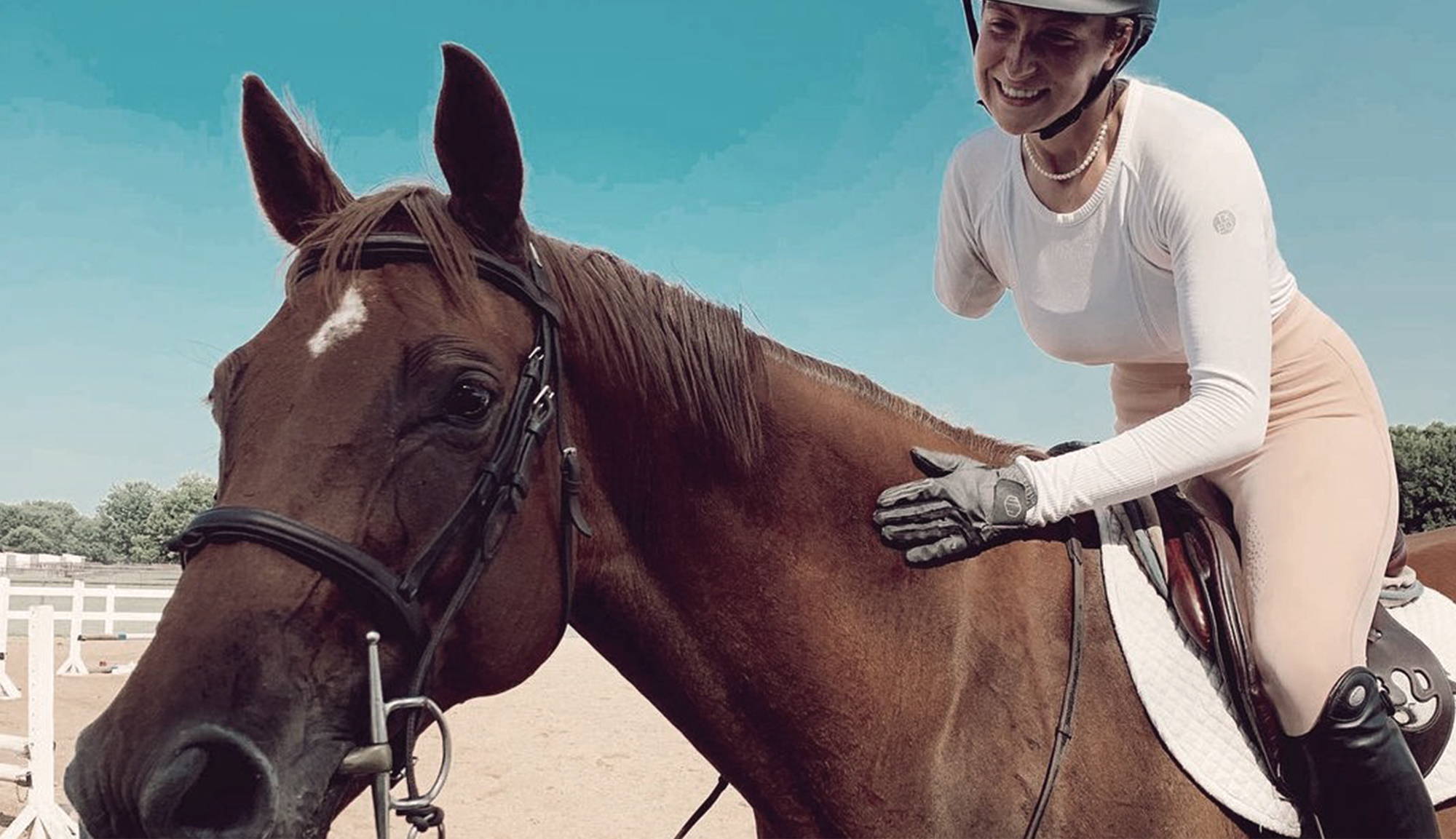 In an Instagram post, she shows photos of her injuries and explains what happened in a nutshell. In the caption, she says, "Many of you have reached out wanting to know more about my story. What happened? How I became who I am today. While I don't focus on this often, I feel like it is important to share. 6 years ago I was in an ATV accident that immediately severed my dominant right arm. I was flown to the hospital, and was in and out of ICU a few times within the first year battling a few infections. While it was not always an easy journey, I am so happy to be where I am today surrounded by the most amazing support system. So incredibly thankful to be alive."
It was perhaps this love and thirst for riding that made Lily sure that even after her accident, she was going to go back in the saddle soon enough. She said to News On 6 that she was advised by her doctors that she could go back to riding after a few weeks. "It's not going to stop me from doing what I love. I'm still going to keep riding," After that fateful event, Lily jokingly told her mom, the inspiration behind her loving horses in the first place, that she was going to have to do the "Western Leisure" more.
A self-proclaimed "another crazy horse girl" like everyone else, Lily says that she continues to ride "because I love horses and are all the same at heart."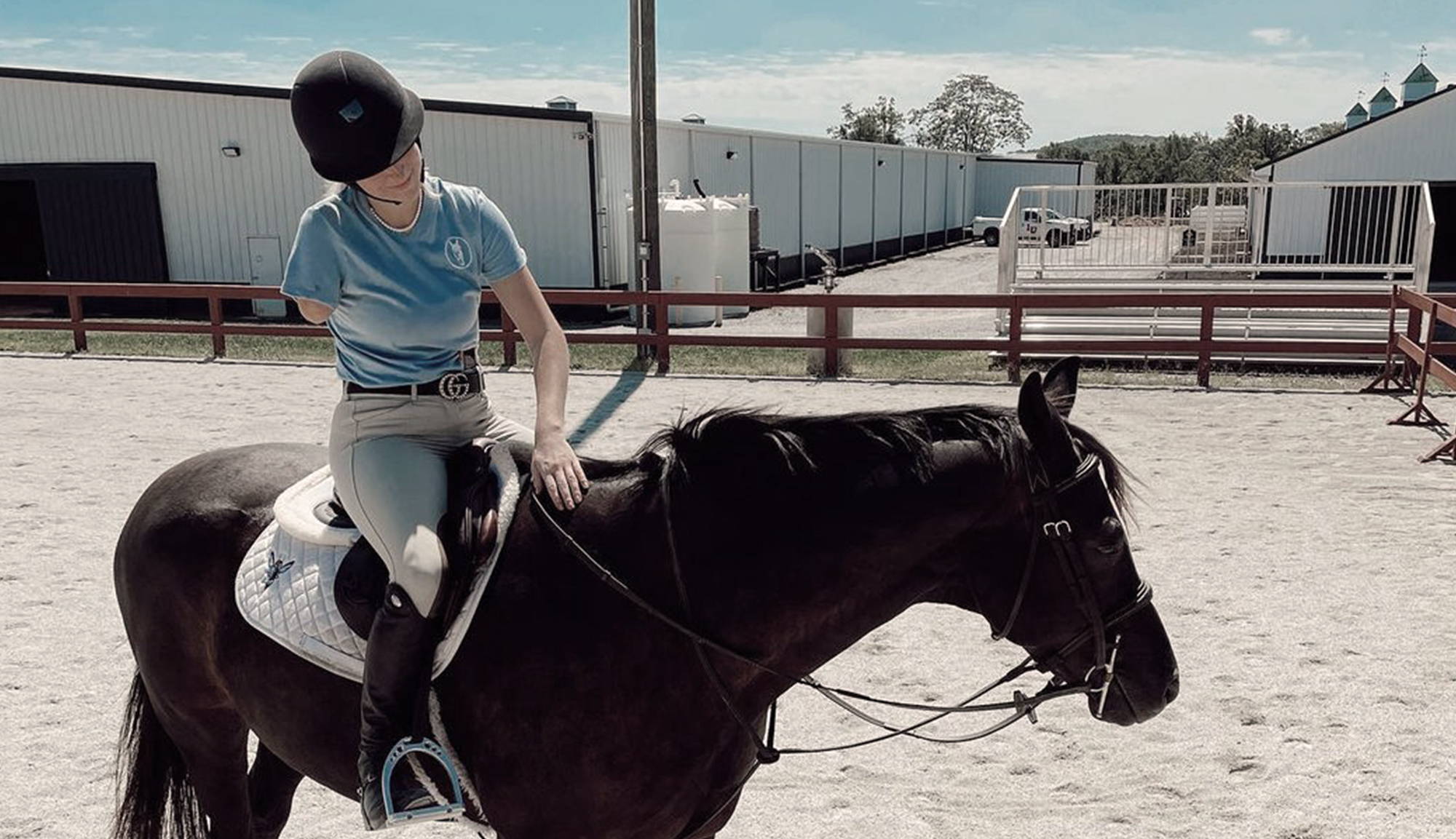 Life as a Para Equestrian
While at the hospital, Lily said that she was going through the Instagram account of Lizzy Traband, a fellow para equestrian who was still riding with one arm. She shared with Liberty News, "The only thing pushing me to recover was the thought of getting back on that horse, and she showed me that there was hope."
At 14, Lily had to relearn all that she has known all her life as an equestrian and adapt to her new normal as a para equestrian. While others would fall into depression or simply give up, she instead did what she had to do and adjust. The dressage rider learned new tricks, and she managed to get herself back on the saddle. She says that Pippen gave her the confidence she needed to go back to riding, but she needed a horse that, in her words, was "more fine-tuned than Pippen." Charlie, who Lily calls her "heart horse", responded to her light cues, and more than that, Lily just knew that "Charlie was the horse for me. Charlie retaught me mostly everything I know, working together from intro level tests all the way to the para grade 5 intro tests, which have 1st and 2nd level movements. What I love most about Charlie is that we can have serious rides where we really focus, then the next day go out and ride bareback around the field and he is the exact same horse."
Out of the lessons and training that Lily had to learn again as a para equestrian, it wasn't making her first clear jump or her horse taking her cues that was the most memorable to her. She recalls that a chore that most equestrians find mundane or tedious, brought her instead to cry tears of joy. "One of my most memorable experiences as a para equestrian has to be gaining back the ability to fully tack up a horse on my own again," Lily says, "It took me nearly two years to develop the strength and fine tune skills to tack up a horse entirely one handed, and I remember crying in the tack room out of pure joy once I was able to accomplish this again." It's not as if Lily took her arms for granted, but no one ever thinks that they will lose a limb. With that accomplishment, it was more than just being able to take care of herself and her horse that was in play, it may also be the happiness felt of going back to the "old Lily" who could do what needed to be done with ease.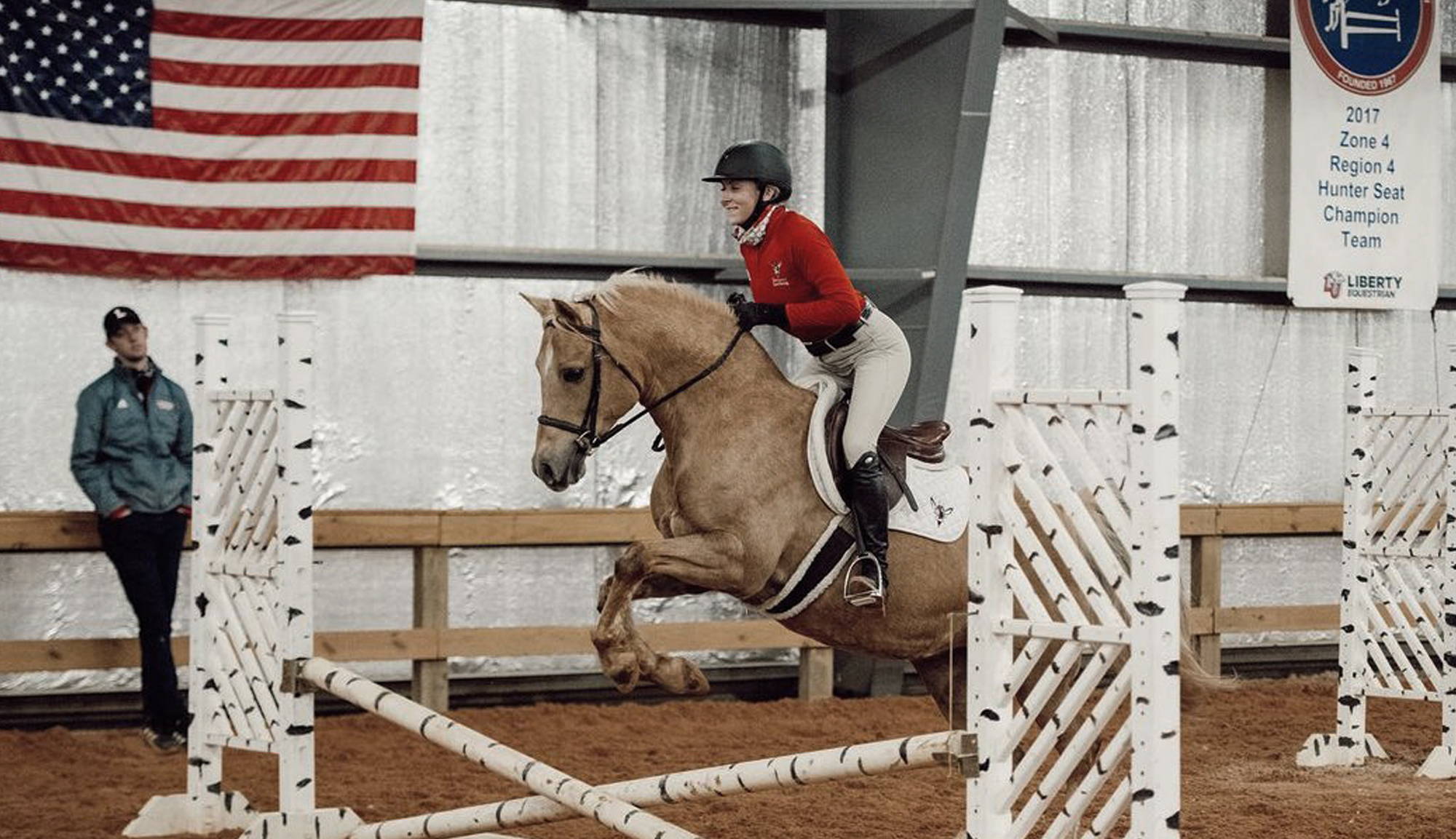 The 20-year-old calls herself an "amateur para equestrian" on her Instagram account, saying that she's not competing at pro-level. "I am thoroughly enjoying the start to my adult amateur years," Lily says, "I love being a competing para equestrian. I have such a wonderful and strong support system that keeps me going. I am part of a collegiate equestrian team and it's so wonderful being able to share these experiences with a team and support each other mutually." She is currently a student at the University of Lynchburg, majoring in Business Administration.  
With her collegiate team, Lily says that she enjoys trying the Kavallerie Air-Mesh Fleece-Lined Half Pad. "I ride a bunch of different horses at school, so I enjoy the versatility of this product!" She says, "I enjoy this product because it has awesome anti-slip properties that keeps my saddle secure and horse comfortable."
While she competes at a collegiate level, her word of advice for those who are competing, whether it be at the amateur or pro level, is to stay focused, while still having fun. "My number one tip for riders who want to compete is just to keep your eye on the goal," She advises, "Be prepared to work for what you want. Hard work will always pay off in the long run!"
Is she headed to the Paralympics?
As a para dressage rider, Lily would have a bright future if she belonged to the Paralympics team, considering that the USA para dressage team ranks number 1 as of the moment.
The last Paralympics was held in Tokyo last 2021. For the unversed, the Paralympics name comes from a combination of "Para" which means beside or alongside in Greek, and the word Olympics. The Paralympics is for athletes who have different impairments and has its roots in soldiers who wanted to keep doing sports after suffering injuries after serving in World War II. The first official Paralympics was held in 1960 in Rome, Italy, and has been happening every four years, alongside the Olympics.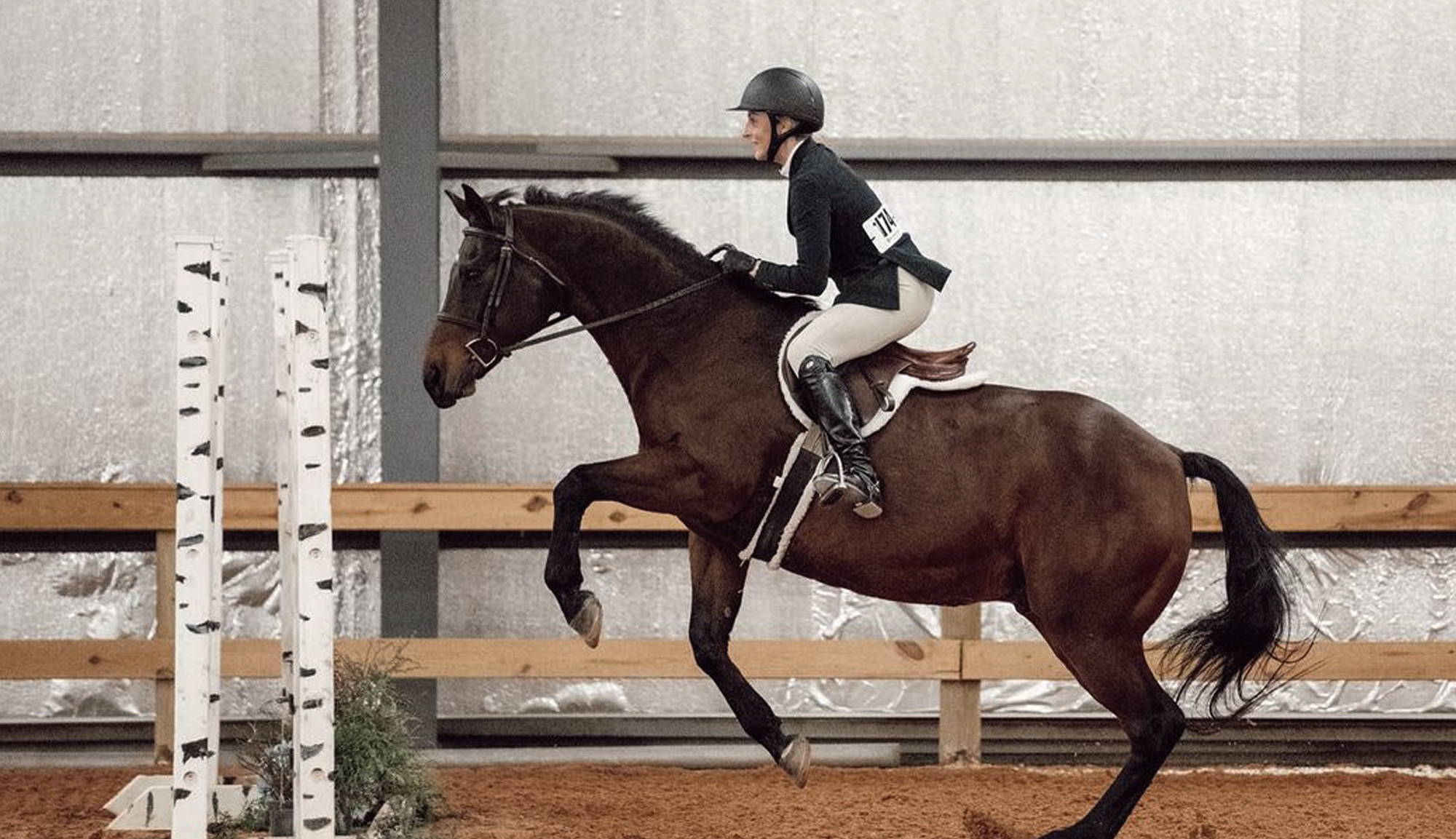 While not on the pro- or paralympic track, Lily says that she loves her adult amateur years."I am actually not on a paralympic track, but the advice I could give though is to never stop having fun with it. Remember why you ride horses. Hop on bareback. Have easy days. It is so important to still have fun! All I can say is where there is a will, there's a way. Stick with your dreams!"  
Lily's love for horses and riding has proven to be unconditional and unwavering, and a love to last a lifetime! Happy riding!
---
To get to know Lily better, follow her on Instagram: @lilybrhodes!
---